Sean K O'Neill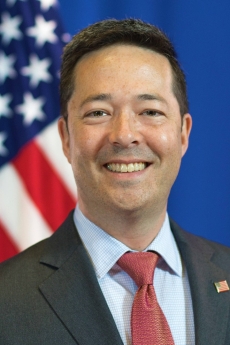 Sean K O'Neill
State Department Visiting Professor of Organizational Sciences and Communication
Visiting, Emeriti & Affiliated
---
Room 102, 600 21st Street, NW
Washington DC 20052
Sean Kotaro O'Neill is a career member of the U.S. Senior Foreign Service and Visiting Professor of Organizational Science and Communication. He most recently served as the United States Consul General in Chiang Mai, Thailand where he led the consulate and oversaw U.S. Government foreign affairs operations throughout northern Thailand. CG O'Neill previously served as a Foreign Affairs Fellow on the staff of the Chairman of the U.S. House of Representatives Committee on Foreign Affairs during the 114th and 115th Congress. He served at the U.S. Consulate General Hong Kong as Political Unit Chief; at Embassy Kabul managing the work of America's civilian-military field platforms throughout Afghanistan; and as the Political-Military Unit Chief in Bangkok.
Earlier in his Foreign Service career, Mr. O'Neill served as a political and human rights officer in Burma, consular officer in Bangladesh and Pakistan, and a watch officer in the Department of State's Operations Center.
Sean served on the board of directors of the Fulbright Thailand-U.S. Educational Foundation from 2019-2022. He received a BA from Tulane University and a JD from Fordham University's School of Law. He was capital markets attorney in New York and Tokyo before joining the U.S. Foreign Service in the wake of 9/11. 
---
Foreign affairs and national security programs and operations
Public diplomacy and outreach
International transactional law
Leadership and oversight of national security organizations and operations.
COMM 1040 - Public Communication
ORSC 2143 - Leadership and Performance
ORSC 3190 - Organizational Oversight of National Security Operations
J.D., Fordham University School of Law, 1998
B.A., Political Science, Tulane University, 1994